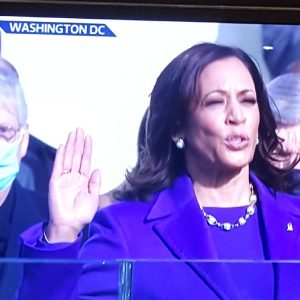 I don't know about you, but I watched the inauguration on Wednesday afternoon with a fair bit of emotion.  I'm not even American, but I grew up watching movies promoting the American Dream.  Seeing the sun come out for the end of the Trump stain and the arrival of Biden and Harris was the first glimpse I've seen of that dream for a while.
The audience was sparser than in previous years and seated in socially distanced pairs.  Masks were abundant and there was a man sanitising the podium between speakers.  It was a clear reminder that this administration believes in the pandemic.  Unlike their predecessors, they also understand the basics of how it is spread.
The Glamour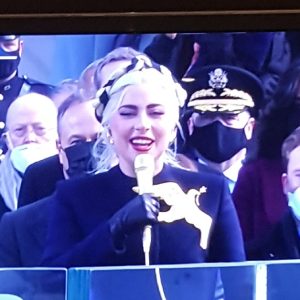 There was the glamour we expected in the forms of Lady Gaga and Jennifer Lopez.  Lady Gaga sang the national anthem and carried off the most enormous brooch in a way that probably only she could!  It was a dove carrying an olive branch to symbolise the peace she hopes the nation can find in unity.  Like some other commentators, I couldn't help wondering if it was a nod to the Katniss Everdeen Mockingjay.  Either way, it made a bold statement and got people on both sides talking.
The New Leaders
Kamala Harris became the first female vice president, the first black vice president, the first Asian vice president and the highest ranking female elected official in US history.  That's a lot of glass ceilings shattered.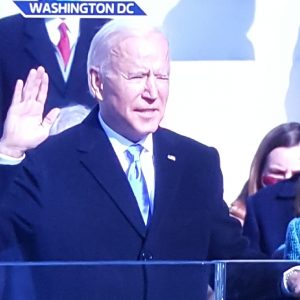 Joe Biden gave his inaugural address and put out some bold statements.  This one leapt out for me:
"The dream of justice for all, will be deferred no longer."
And then he spoke of unity and its crucial role in moving the country forward in the toughest of times.  He vowed to be a president for all of the people, whether they voted for him or not.  And he echoed Abraham Lincoln when he said that his "whole soul is in it."
The Poet Everyone Was Talking About
Amanda Gorman stepped up to the lectern and her youth was the first thing I noticed.  Her small frame wrapped in a bright yellow coat, her hair piled high with a bright red band.
Then she spoke and became so much more than a "skinny Black girl descended from slaves and raised by a single mother".  The Hill We Climb is a stunning piece of writing, full text available if you click here, that reminds us all of the power of words.  I'll just pinch her closing lines, as I love their message of hope and personal responsibility:
The new dawn blooms as we free it.
For there is always light,
if only we're brave enough to see it.
If only we're brave enough to be it.
What He Did Next
In his first few days in office, Joe Biden has:
rejoined the Paris Agreement as part of his climate pledge
rejoined the World Health Organisation
rolled back Trump's "Anti-Muslim" immigration laws
rolled back Trump's attempt to rewrite the history books regarding race relations and genocide
and tweeted in a presidential fashion, reminding people about his message of unity.
One commentator from CNN put it beautifully: "Who knew the normal could feel so radical?" 
The Future Is Bright, The Future Is No Longer Orange
Sorry, not sorry.  My memory for advertising slogans is better than my memory for what I ate for lunch.  And Trump was orange.  If you fancy a trip down memory lane for the old Orange ads, here's a link to one on YouTube.   
I wrote this along the bottom of my January calendar page in my journal: New Chapter, New Page, the Dawning of a New Age.
The world feels like a safer place.  I don't know how long I'll have to wait to feel as excited by an election result in the UK as I do by this one across the pond, but I will never give up hope that the day will come.
I hope you're also feeling optimistic?
Sometimes looking for things a bit further away helps, other times it's what is right in front of us that we need.
Until next week Xx
If you'd like my blog delivered to your inbox each week, please sign up here.
Photos courtesy of my phone taking pictures of my TV screen – can you tell? 😉 lol