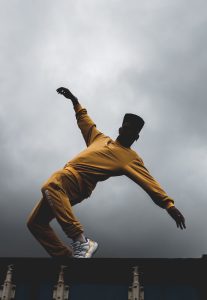 If you're humming Soul II Soul right now, you're welcome.  You're probably one of my people 🙂
My friend Jo made me laugh by calling it a Dad thing to randomly break into song when certain words were uttered within earshot – I do it too.  All the time.  Sorry, not sorry.  I spent bits of my childhood wishing I lived in a Doris Day movie, so maybe this is my way of making it happen? lol
Feeling Less Bouncy?
I've been talking to my friends and family members and a lot of us are still feeling a lot less bouncy than we'd hoped we might be by now.  Kids went back to school a couple of weeks ago, but we haven't bounced back.  Not yet.  Most of us are still upbeat in our outlook, but our energy reserves remain depleted.  It's frustrating, especially in the face of all the chatter about another lockdown.  There was so much we planned to accomplish in 2020 and here we are nearly in October and no where near where we'd thought we might be…
This in itself is actually a big chunk of the problem.  No matter how well we are doing at going to bed on time to set ourselves up for an 8 hour sleep, or eating right or drinking enough water, we carry a heavy mental burden.
The Noise is Building again!
Some people are still going in mental circles about whether it is possible to achieve their goals in a  different way and if so how they're going to manage it.  Other people have written the year off.  What we are all carrying though is the little voice that says "hmm there probably will be another lockdown, just can't work out when or how bad it'll be".  The story may then spiral from there into wondering whether there will be more furlough pay to get employees through the winter or if jobs will go, whether businesses will survive as we try to work from home with the kids again, how mental health will suffer during a winter of lockdown and worse.  There is so much uncertainty, but it's constantly in your face.
There has always been more uncertainty than things upon which we could rely.  It's just that pre-Covid, the average person didn't worry about them.
3 Steps to Quiet the Noise
So, how can we quiet the noise?
"If there is no solution to the problem then don't waste time worrying about it. If there is a solution to the problem then don't waste time worrying about it." ― The Dalai Lama
That's possibly easier said than done though.  Here are my top tips for changing the channel that's broadcasting inside your head:
Be present, live in the moment.  Focus on exactly what's in front of you – what can you hear, smell, taste, touch and see?  Getting grounded in where and when you are is a vital element of the being part of human being.
Unplug.  Limit consumption of social media, news and commentary.  Read a book, get creative, go for a walk outside.
Focus on what we can control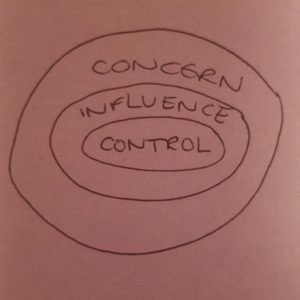 This is my badly drawn version of a classic diagram about our sphere of concern (the stuff we worry about), and how our spheres of control and influence within it are notably smaller.  A second lockdown would absolutely feature in the outer circle as something we are concerned by.  Can we directly influence the decisions of the Prime Minister about whether or when or how?  No.  If we can't influence it, we definitely can't control it.
The things we can control include our rituals, routines and responses to what is going on around us.
While your here, like some Help?
If you'd like some help with those, I'll be launching the beta run of my Upgrade Your Habits, Upgrade Your Life programme in the first week of October!!
Be quick as I will be limiting this group to a maximum of 20 (The first 5 "Early bird" sign ups get a bonus 1:1 coaching call)
Xx