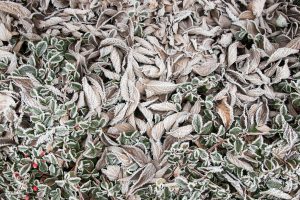 As we slide into the second half of December, it is nearly time to relax.
With many of us wondering why it feels like November went in the blink of an eye, the imminence of Christmas seems a teensy bit rude.  The lucky by-product of the corona Christmas is that I have no need to do any madcap "clearing and tidying" in advance of guests, because this year there are none.  I love you but hurrah for not needing to put all the Lego away! lol
The Annual Review
This time of year also brings me around to planning my Annual Review session.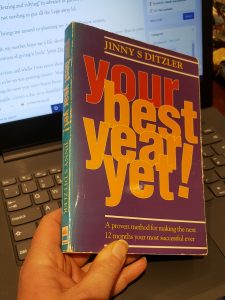 Back in January 1998, my mother leant me a life altering book.  I say leant, but even more than 20 years later, I have no intention of giving it back – Jinny Ditzler's Your Best Year Yet – this edition is from 1994… and yes, it still has Mum's name in it… and I'm still not giving it back! tee hee hee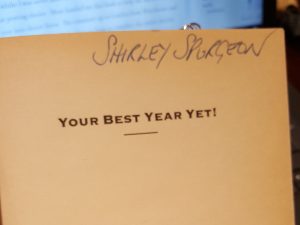 It was the first personal development book I read.  I wasn't sure what to expect, but I was pleasantly surprised.
What went well?
The entire process started with an annual review.  The focus was on what had gone well in the previous year.  The author encouraged me to list the medium and smaller things as well as the big.  You didn't need to make a million dollars every year to have done well!  The impact of beginning here was that I started my planning adventure feeling a good deal more confident in my abilities and achievements than I would have done otherwise.
What disappointed you?
She anchored me in the positive by starting with listing achievements, which made the second question much easier to tackle.  This was about our disappointments, and there was no struggle to fill the page with those.
Writing these first two lists cleared my head.  Somehow when these things are out on the page, they cannot hurt you.  No matter upset you might have been internally about still not getting a payrise or promotion, not losing that weight, or not plucking up the courage to ask that person out, writing it out on the page always made the sense of failure diminish.
What did you learn?
Which brings me nicely onto the third question.  What did we learn?  In the early years, I sometimes forgot to note what I'd learned from the things that went well and focussed entirely on the answers to the second question – First Attempt In Learning opportunities.
The Basics
These three questions make up the absolute basics of the annual review.  What went well?  What were you disappointed by?  What did you learn?
For at least the next ten years, whilst I would go through the entire book, these three questions were where I put my attention.
They are very, very good questions.
They are also only the first third of the process though…. and some might say they're the easiest.
How Can I Help?
If you're a complete beginner and want to just dip your toe in the water, the three key questions above are a fantastic place to start.  However if you're looking to really move your experience of life forwards, you will benefit from a more thorough process.
I will be doing a live Annual Review session on Tuesday 29th December at 8pm (UK). 
It is £10 to join.  Please register here and I will be in touch with login details.
Relax, Review, Refine, Recharge
1 – Relax – set a date to stop working, and STOP working.  Set up an out of office message on your email, turn your phone off if at all possible, unplug and chill out.
2 – Review – join me for the Annual Review on 29th December to put 2020 to bed.
3 – Refine – get really clear on what is important to you for 2021.
4 – Recharge – bask in the glow of all the good things you have coming for you, and allow your body mind and spirit to recharge before you head back into the "office".
…and if you don't have the blog delivered to your inbox yet, please sign up here 🙂 
Until next week,
Rhiannon Xx