At the end of February, in our inaugural meeting, the TAWN book club discussed the phenomenal Four Tendencies by Gretchen Rubin.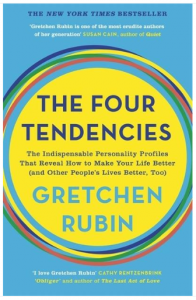 First up, I loved the book's originality. This was a standout feature to me in a sea of books and courses that are formulated through the cherry picking and combination of other people's work. The Four Tendencies research came about from a conversation Gretchen had with a friend about running.
I related to this and many other examples used in the book, both for my own tendency and for the other three. What could have been a very intellectual study was made completely accessible by Gretchen's personable writing style. Listening to the author read the book via Audible was an added bonus that I would recommend.
Our group chat about the book was lively and between us we covered all four of the tendencies. We continued the conversation the following morning at our monthly social and are still talking in terms of Upholder, Questioner, Rebel and Obliger a month later.
A fantastically insightful book. 5 stars.