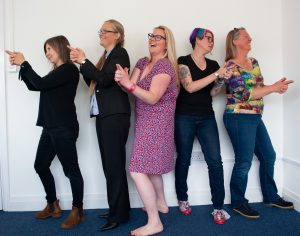 Last week, I had a photo shoot with some of the members of my Totally Awesome Women's Network. I laughed A LOT, I pulled out the Shirley Bassey impression to make them laugh while on the spot for headshots, and I got the last ones standing to do #charliesangels for me.
I love these women. I sometimes think they probably all think I'm nuts. I love that they don't care and hang out with me anyway. I love that we talk openly about our mental health and the stuff that is going on within US, not just in our businesses.
A few years back, I'd have cringed at how fat I look in this picture. Now, whilst of course I can see it, my focus changes quickly to the strength with which I love these women, and how much they must love me to do silly poses, just because I ask them to help me out.
No matter what the media tells us we're "supposed" to look like, what matters really is what you add to the lives around you. Frankly, with the possible exception of healthcare professionals, nobody whose opinion is worth listening to is going to give more than a moment's energy to how you look, and they will focus in that moment on whether you look happy, whether you look healthy, whether you look well.
Too many people waste their lives trying to achieve some illusion of physical perfection. It makes me sad when my 7 year old starts talking about her legs and asking why this bit is "fat" – it's a thigh muscle. It is insidious and starts to speak into our minds from such a young age. I did so much damage to myself trying to look like someone whose life looked better than mine.
My throwback posts from 12 years ago are reminding me of how pleased I was that I had managed to get myself into a bath unaided. When you've had a brush with death, and your body is battered, you get a glimpse of what is important. Youth and self centredness can blur that perspective pretty quickly if they're allowed to. But looking back, I know how very very lucky I am to have got out of that crash with only a broken collarbone and ankle.
My body works. I have kickboxed with it. I have podium danced with it. I have swum with dolphins, seals and sharks in it. I have hiked gorges and big ass hills with it. I have grown a small human with it. I have run miles with it. I have galloped on white sand with it. I am going to do a cartwheel with it this summer. I love my body.
Taking care of my body is an essential part of taking care of my mental health.
Are you taking care of yours?
Xx
#mentalhealthawareness #bodypositive #unstoppablecollective #totallyawesomewomen #photoshoot